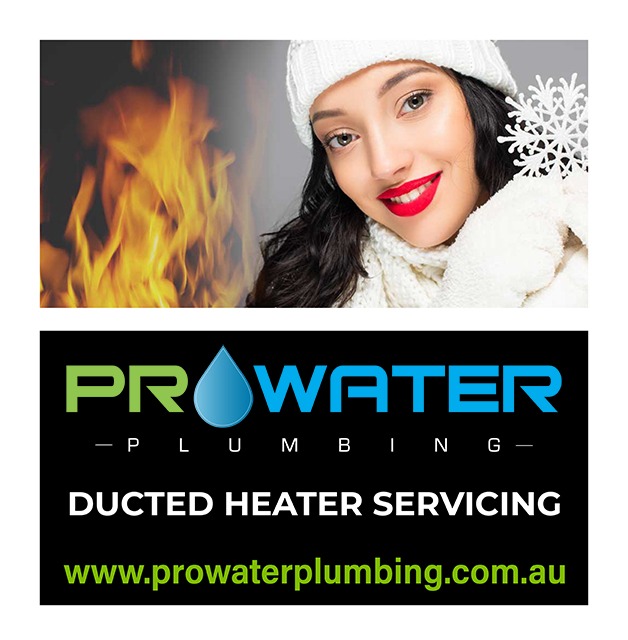 GAS DUCTED HEATER
SERVICING
Gas Ducted Heater Servicing Montrose
Reliable and efficient heating is crucial to ensure comfort during the chilly months. At Prowater Plumbing, we specialise in professional gas ducted heater servicing, offering comprehensive solutions to keep your home warm and cozy. With our team of experienced technicians and commitment to top-quality service, we are your go-to experts for all your gas ducted heater needs.
Why Choose Prowater Plumbing for Gas Ducted Heater Servicing?
Expert Technicians: Our skilled technicians possess extensive knowledge and expertise in gas ducted heater systems. They undergo regular training to stay updated with the latest industry advancements, ensuring that they can address any issue promptly and effectively.
Comprehensive Servicing: We provide comprehensive gas ducted heater servicing to optimise the performance and efficiency of your system. Our services include thorough inspections, cleaning, maintenance and necessary repairs. By conducting routine servicing, we help extend the lifespan of your heater and minimise the risk of unexpected breakdowns.
Timely Repairs: If your gas ducted heater is experiencing any issues, our technicians are adept at identifying and resolving problems quickly. We understand the inconvenience that a malfunctioning heater can cause, which is why we strive to provide prompt and reliable repair services, restoring your system to optimal working condition.
Safety First: Gas heating systems require careful attention to ensure safety. At Prowater Plumbing, we prioritise safety in all our servicing tasks. Our technicians adhere to strict protocols and guidelines to ensure that your gas ducted heater operates safely, minimising the risk of gas leaks or other hazards.
Customer Satisfaction: Customer satisfaction is at the heart of our business. We strive to exceed your expectations by delivering top-notch service and personalised attention. Our friendly team is dedicated to answering your questions, addressing your concerns, and ensuring that you are completely satisfied with our work.
Schedule Your Gas Ducted Heater Servicing Today!
Don't let a faulty or inefficient gas ducted heater compromise your comfort. Trust the experts at Prowater Plumbing to take care of all your servicing needs. Contact us today to schedule an appointment or to learn more about our services. Our team is ready to help you enjoy a warm and cozy home throughout the winter season in the Montrose area.
30 years experience, call Prowater Plumbing 9761 8406.